Market overview
August delivered mixed results in equity markets. Escalating US-North Korea tensions and Hurricane Harvey haven't stopped major US stock index from delivering positive returns in August. S&P500 was up by 0,31%, which marks the 9th consecutive positive month. It's worth mentioning that there has been only one negative month in the last 17 and investors have almost forgotten what a bigger than 5% drop means. Although this could be seen as a warning sign, gains came not without reason as US equities were supported by generally positive macroeconomic data.
Europe, on the other hand, has posted negative results as stronger Euro was a major headwind. This is likely to remain an issue for a while, since domestic economic data remains robust and Mario Draghi is expected to announce some details on tapering in the coming ECB meeting in October.
The long awaited Jackson Hole symposium could be described as follows: high expectations, but no real results. Speeches from central bank chiefs Janet Yellen and Mario Draghi lacked any hawkish sentiment, thus, leaving markets once again to rely purely on macroeconomic data to decide on timing of possible monetary tightening.
Volatility returned in August as geopolitical tensions and hurricanes finally brought some long awaited spikes. The so-called fear index (VIX) jumped by 44% and 32% on Aug 10th and Aug 17th respectively benefiting active investors whose performance is closely depending on moving not stagnant markets.
Hedge funds performance
Hedge fund industry has posted 10th consecutive positive month with HFRI Fund Weighted Composite gaining 0,66% in August. YTD returns now stand at 5,35%. Led by Macro funds, August's returns outperformed major US and European equity indices but was almost twice as low as gains posted by our portfolio (MC Investments' portfolio is a basket of 16 selected hedge funds).
1 picture. YTD performance of HFRI index and MC Investments' portfolio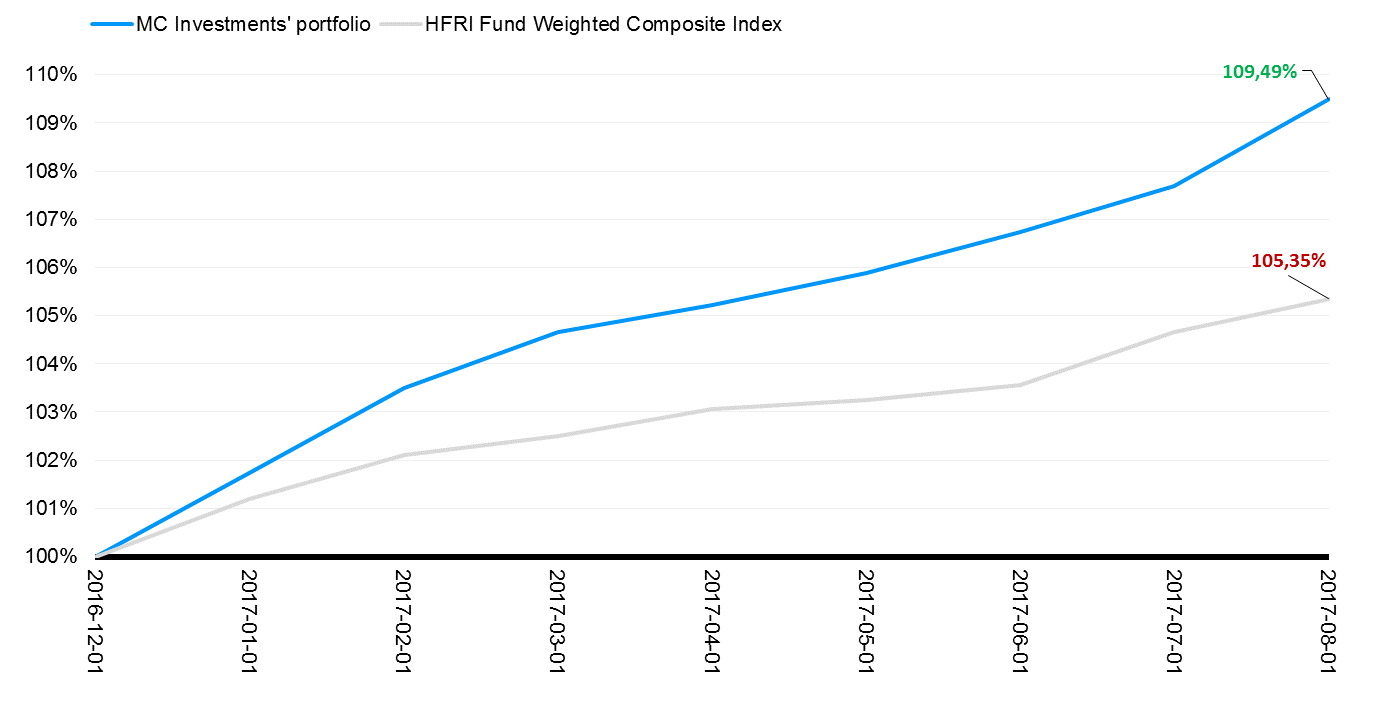 Source: HFRI Indices, MC Investments' calculations
Big shifts in commodities markets has allowed Macro funds in general to enjoy gains of 0,88%. The selected Macro funds in our portfolio kept delivering stable results (+0,39%), though lagging HFRI Macro Index in August. Yet on the YTD basis we are still outperforming HRFI Macro Index by hefty 5,73 p.p.
HFRI Equity Index was up by 0,81% in August, primarily due to strong performance in Tech and Healthcare sectors. Our selected biotechnology related fund was a clear star of the month rising 12,90% in August alone and even 31,69% YTD.
Relative value funds gained 0,23% in August, the 18th consecutive month without posting a decline. This however is the third worst result over the respective period. Our portfolio funds, majority of which employ niche strategies, produced better results, returning 1,60%.
Event driven was the worst performing strategy in the universe, generating only 0,03%. In comparison, our selected funds were up by 0,74%, proving their ability to remain nimble and opportunistic to provide a competitive advantage.
1 table. YTD performance of HFRI indices and MC Investments' portfolio by strategy

Source: HFRI Indices, MC Investments' calculations
Top pick
We continue to lean towards niche strategies such as life settlements or lending. Our top pick remains a life settlement fund with exceptional performance and low volatility. The life settlement industry is expected to remain healthy in the coming years and has already proved its resilience to other asset classes.
The Top pick fund has posted 1,3% gains in Augusts bringing YTD performance to 12,03%. According to the management, the fund is preparing to launch the new close-end vehicle in the fall of 2017 for the institutional investors. Existing open-ended fund with minimum 125 000 Eur (or equivalent in USD or GBP) investment requirement is expected to be soft-closed for the new investors later in 2018. The ones who still want to jump in the train have the last chance to do it in coming months. Don't hesitate to get in touch should you wish to learn more about the Fund.
2 picture. YTD performance of Top pick fund vs. HFRI Relative Value Index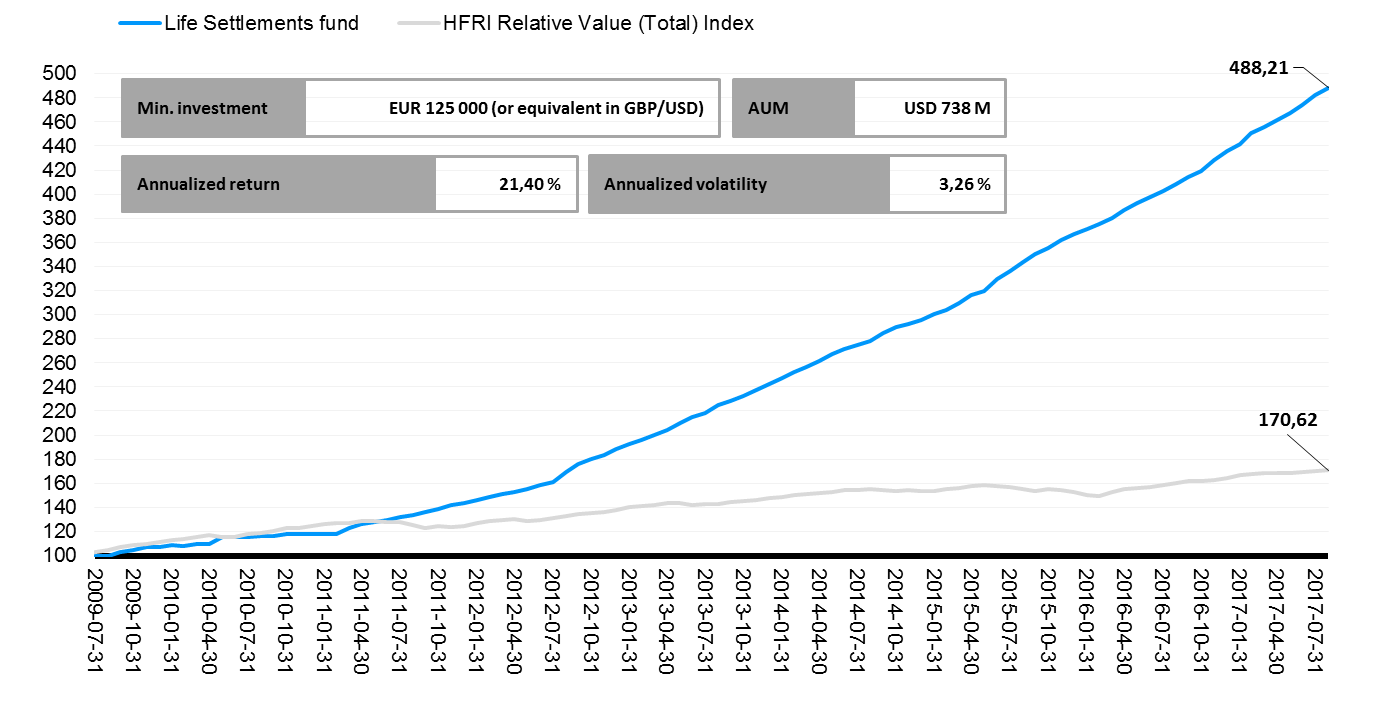 Source: HFRI Indices, MC Investments' calculations
Articles you might be interested in
Is gold the perfect and the most appropriate "safe haven"?
Do all hedge funds really hedge?
A Decade After Crisis, Investors Have Stopped Hunting for Black Swans
In World of Supposed Bubbles Here's What Investors Fear Most
An investing legend who's nailed the bull market at every turn sees no end in sight for the 269% rally
Hugh Hendry Blames Broken Macro Model as He Shuts Hedge Fund
Tiger Management's Robertson says 'we are creating a bubble' in stocks
Bitcoin is a fraud that will blow up, says JP Morgan boss
China Is Shutting Down All of Beijing's Bitcoin and Cryptocurrency Exchanges